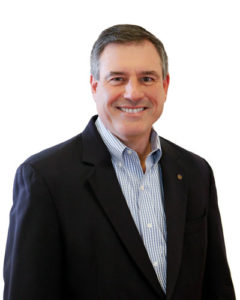 Central Louisiana native Kevin Laborde earned his degree in finance from Georgetown University and a MBA from Louisiana State University. Over the ensuing 25 years, Kevin held numerous marketing, credit, and managerial banking positions; the last 14 with Bank One in Louisiana (now JP Morgan Chase) where he worked with clients of all sizes. His true passion is looking out for the small guys – which is why, in 2003, he founded Cash Flow Resources.
Committed to mentoring, Kevin served as an adjunct faculty member in the finance department of Tulane University's A.B. Freeman School of Business, where for 10 years he taught a course in commercial banking. Kevin was board president of Big Brothers Big Sisters of Southeast Louisiana in 1999 and 2000. He was the 2010-11 president of the Rotary Club of New Orleans and until the 2014-15 school year, chaired the southeast Louisiana interviewing committee for the Office of Undergraduate Admissions at Georgetown University where he remains an emeritus board member. Kevin is board president for the Louisiana Chapter of the Turnaround Management Association and joined the Greater New Orleans Executive Association in 2014.
An avid music lover, Kevin sang with the Georgetown Chimes during his undergraduate days. Today he is more about listening to music, roasting pigs and cooking in general.