Our mission is to use our financial expertise to contribute to the success of small businesses. We're in this industry because we saw a void in our community – great companies were being excluded from the financing market for reasons having nothing to do with the quality of services that they provided. Just like you, we want to make a difference in our community and we do that by working with you to develop a customized plan. We are only successful when you are, which is how it should be.
Funding through Factoring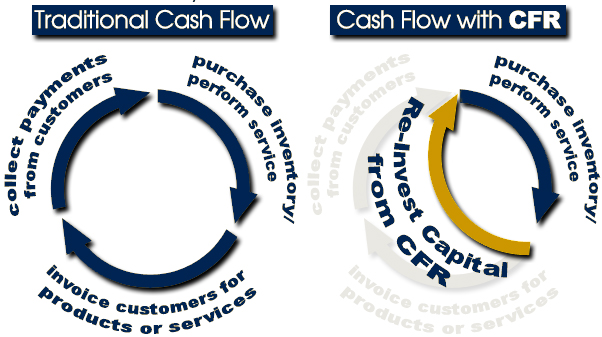 Cash Flow Resources provides funding through a process called factoring – we advance a percentage of your invoice as soon as you generate it. When your customer pays the invoice, we forward the balance of that invoice, less a small percentage, to you. Factoring allows you to receive cash faster instead of waiting on payment from your customers. You maintain your ownership structure and the relationships with your customers and we manage the billing and bookkeeping so that you can get on with your business. Use our Invoice Funding Calculator to see how this works.
Consulting
While you may have an attorney for legal matters and an accountant for tax return preparation, small businesses typically do not have a trusted financial advisor. CFR can help bridge that gap and give you answers to questions like:
Am I pricing my product/service correctly?
How can I better manage account terms with my customers?
Is this the right financial decision?
We are interested in how your business works and will partner with you to find ways to make it work better. Our consulting services work hand in hand with our funding solutions. If you're not sure how much funding you need, we will guide you through the process. If you're not ready for funding yet, we will work with you to ensure that you get there. Check out our Working Capital and Cash Flow Estimator or Get in Touch with Us.
Accounting
Through our years of accounting experience, CFR can provide you with the information that you need to run your business. We offer accounting services so that you have instant access to your current income statement and balance sheet. We can help you prepare a budget, administer your accounts receivable and accounts payable, and ensure that your books are always up to date. We will collaborate with you so that your business's finances are exactly what lenders want to see. For assistance with your budget, check out our 13 Week Budget Worksheet.