Reliable and efficient cash management is a major factor in the success of a company's commercial transactions. However, at times, bankers are unable to approve a borrowing request to a company for various reasons, even to an existing client. Some of these reasons include receivable concentrations, overextended, under capitalized, growing quickly, and various other reasons. In these situations, the bank still has an opportunity to help their client or prospect. They can refer them to factoring!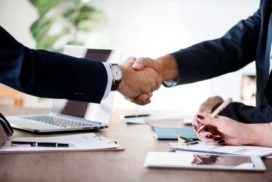 Factoring or invoice buying is a process in which a factor advances a percentage of the commercial invoice as soon as it is generated. When a customer pays the invoice, the factor forwards the balance of that invoice, less a small fee, to the company. Factoring allows a company to receive cash faster instead of waiting 30, 60 or 90 days on payment from their customers. Unlike banks, factoring companies base invoice repayment on the debtor instead of client.  Therefore, they can offer funding solutions to unbankable, undercapitalized, and finance-strapped businesses like start-ups and growing entrepreneurs.
By a bank and factoring company working together, it can be a win, win for a company.  The factor can handle their credit needs while their current bank can continue to provide depository and treasury management services.
Factor funds line of credit.

Bank keeps deposits.

Bank keeps treasury management.
The CFR difference is the individualized attention we give to our clients.  Each business has unique needs, so we look at each client with an eye toward understanding the type of support they need.  We know each business on a personal level, which means we can offer flexible, customized credit terms as the needs of the business change.  We only succeed when a company succeeds!
Invoice Factoring Since 2003
Direct Access to Leadership Team
Contract Reviews for New Opportunities