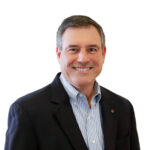 In November of 2003, Kevin Laborde started Cash Flow Resources ("CFR"), a full-service factoring company. Over the years, CFR has serviced approximately 130 small businesses, deploying over $100 million in working capital. On average, CFR has 10-12 customers at any one time, allowing us to provide them with our undivided attention, specific to their needs. We asked Kevin to reflect on the last 20 years of business as we approach our anniversary.
Why did you start CFR?
For over 22 years, I was in the commercial banking space with Wachovia, Centerre, First NBC, and Bank One, in many different roles – from Private Client Services and Commercial Banking to Credit Approval. When I decided to leave banking, I wanted to continue helping small businesses with their cash flow needs. CFR was a way for me to apply my banking experience through my own small business to help other small businesses.
What do you attribute your keys to success over the 20 years?
CFR weathered many storms over the years, including, but not limited to, Hurricane Katrina, COVID, and even fraudulent funding activity. Staying focused on our target market of small businesses, CFR has successfully added value to its funding program – from accounting support and client contract reviews, to helping with negotiations. CFR is a proven resource that can help its clients achieve their goals while minimizing unnecessary risks.
Additionally, we learned to evolve with the times. When I opened my business, I would go through the phone book and cold call prospective clients. Phone books no longer exist, so through the years we have grown and developed bankers as referral partners, utilized LinkedIn Sales Navigator and other marketing tactics to identify opportunities.
How did CFR continue to succeed during COVID when so many small businesses struggled and closed?
CFR was fortunate to never close down during the COVID-19 pandemic; however, business volume was down 80-90% during the majority of the shutdown. We managed our expenses, and CFR made the decision to hang in there and be ready when things turned around, which eventually happened. Small businesses started doing business again, and we were ready when they needed working capital. Today, our funding levels are actually higher than they were pre-COVID.
What is your vision for CFR for the future?
As has been the case since its inception, CFR strives to help its small business clients better navigate how they finance their operations to achieve their goals. We pride ourselves on providing customizing solutions for each business and always doing the right thing for our clients.