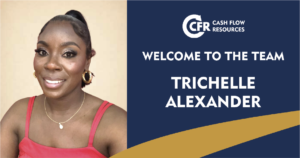 Cash Flow Resources (CFR) is pleased to announce the hiring of Trichelle Alexander as a
Client Service Specialist in New Orleans.
In her role with CFR she will manage onboarding, and ensure that CFR customers receive the
best service possible. She will also manage internal operations to verify that CFR workflows are
fluid and efficient.
"Trichelle Alexander has joined CFR to help boost our efforts to make our client experience exceptional.  She comes to us with outstanding customer service knowledge, a great sense for business, and an in-depth knowledge of the financial service industry having worked at one of the world's largest credit card companies." Said Kevin Laborde, CFR President.  "We are excited about the energy she will bring to our team and client community."
Prior to joining CFR, Trishelle served as an Account Manager of Card Services and Collections
with American Express. Her role included a vast number of issues relating to the card member
user experience and ensuring that matters were handled swiftly and professionally.
ABOUT CFR
Founded in late 2003, Cash Flow Resources, CFR, is a private commercial factoring company
serving local and regional businesses, primarily in the Gulf South. For more than 13 years, CFR has
supported businesses in need of working capital and guidance, including existing, start-up, early
stage and high-growth businesses. In addition to factoring, CFR provides consulting and accounting
services to ensure clients make the best of their relationship with CFR.