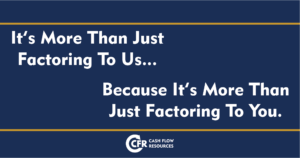 In this month's blog, CFR tells the story of how we worked with a minority-owned staffing company to do more than just factor their client's invoices. Through our consulting and initial processes, CFR turned over some stones that the business didn't really like, but helped, in the long run, make them a much better run business.
Seeking Information
When working with clients, we discover many issues that we can help resolve to get their respective business houses in order, especially in the financial realm. As part of our process, we look at company financial records to understand if factoring is a good fit. Our backgrounds in banking and finance often lead us to uncover issues that business owners may overlook because they end up forsaking parts of the business that they don't quite understand. Since we do this every day and look at a wide variety of companies and industries, we know financial reports can tell a story as to what may be missing…. or in this case simply not right.
To that end in this instance, the business has been around for about five years and provides staffing services to large companies. Our discovery showed that they had a great client base, but payments from invoicing took longer than 30 days. As a result, the owner needed to receive more upfront cash to meet payroll for its employees. This made factoring a great solution. That being said, through our process of gathering information, we noticed something was not right in their financial house. We could tell that their financial systems had a leak that did not make sense and it allowed the business owner to determine that an employee was allocating unauthorized funds to themselves.
Reorganizing a Business
By taking the advice of CFR, the owner worked to get the company's financial systems in order and repaired the company's systems and processes by hiring an accounting and bookkeeping firm to help them with monthly reporting, as well, as how to better read and understand their financial statements. We also helped the business with their banking relationship to get them better service and resources that were otherwise unavailable.
"With our intimate knowledge, we ask questions that lead us to see problems with businesses that owners would overlook." said Olivia Ventola, CFR Vice President of Business Development. "Our consultation leads to businesses getting better by encouraging them to adopt better financial systems."
In this instance, our consultation led the business to take the necessary steps to get itself in better shape for future growth. The owner is incredibly talented with recruiting and developing personnel, as well as negotiating deals with large companies to provide her services but was less adept at financials. This is true among many talented business owners and when starting their companies is a need that they don't see as important, but is needed desperately to grow. What's more, they typically end up trusting the wrong people to do this part for them, but oftentimes the person responsible can't even produce a receivables statement.
Poised for Growth
Unfortunately, these types of issues happen every day for numerous companies and they are often happy not knowing what is happening behind the scenes. When businesses decide to take the next step, they become poised for great things and take better control of their business.
In the end, we provided a $600,000 factoring line of credit, allowing them the cash flow to give them the resources needed to operate with less stress on the business…and the owner. This was definitely a COVID success story from a company that grew sharply during the past few years when others were sitting idle. The new line will allow them to continue growing and take on new clients while maintaining profitable margins.